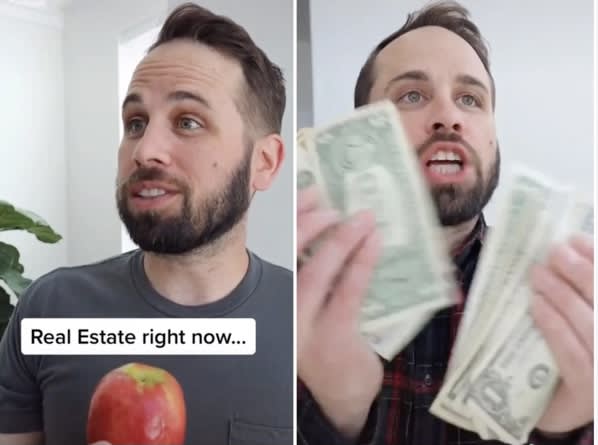 Comedian Shaun Johnson – Buying An Apple – Like Housing Market – @johnsonfiles/TikTok
If you have not yet seen comedian Shaun Johnson's work of genius on what the housing market is like,
click here.
The supply and demand of residential housing are so out of whack, it seems almost impossible to imagine it coming back into balance (Reminder: the yellow line below should be well above the blue line – there should be 3-6 times more homes for sale than there are that are selling for a 'balanced' market).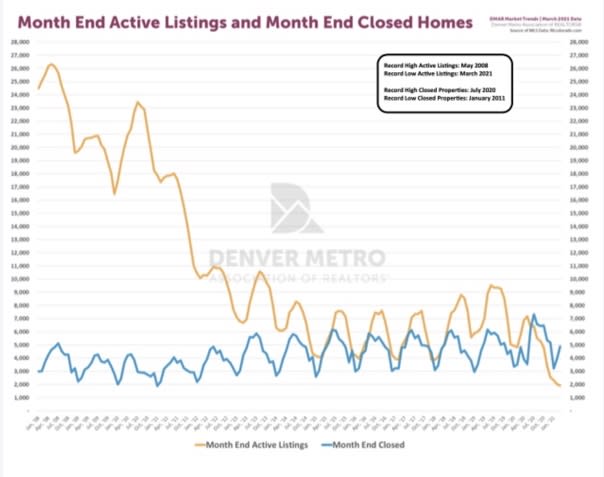 When will this extreme market cycle (with its utter lack of homes for sale, multiple offers, and rapid price appreciation) ever going to stop? When it does.
Obviously, none of us can predict the future. We will only know when the market plateaus or softens when it does – which is in hindsight. We can only see that a market has peaked by looking
back
at historical data.
As you've probably heard, this housing shortage is not unique to the Front Range. In last month's post, I mentioned that more than half of the major markets in the U.S. are seeing double-digit price increases. I am sticking to the story of record low-interest rates fueling the purchase boom as the most important factor. Record low rates created a FOMO (fear of missing out) situation – people frenzied to not miss buying a home with 'once-in-a-lifetime' rates.
It's probably also fair to say that the "Great Reshuffling" (not my term) is also driving demand.
With a "work from anywhere" option, people are quite literally working from anywhere. People don't have to necessarily stay in the geographic region they were in for work. People have not only left the urban for suburban but have also done so in different states and regions of the country.
Both of these circumstances are having a significant impact on the real estate market.
The other major piece of the puzzle – and one that I have been talking about for a long time – is the under-building of single-family homes.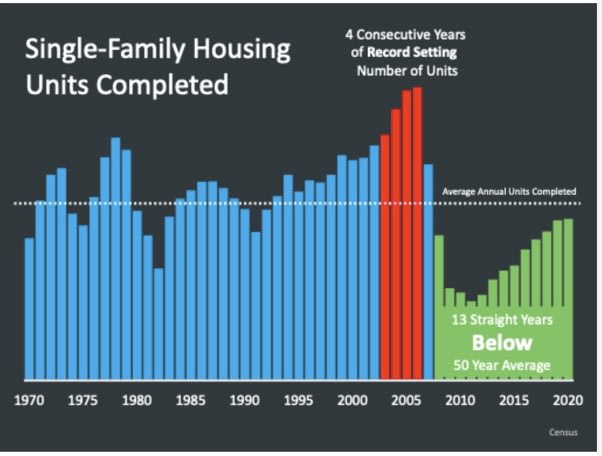 Take those three pieces and you have what is looking like the perfect storm for home appreciation.
Boulder and Denver are now the 7th and 14th most expensive metros in the country per the National Association of REALTORS® (NAR)
. Most of the press on the housing market says that this is not a bubble because there is little speculation. Today's buyers are (theoretically) more qualified, and that there is currently more equity in people's homes. "This time is different," many are saying. In my mind, all that means is that what causes us to get to the other side of this peak will be different than the last time. Life, nature, the universe – seems to be cyclical in nature. To think that we can artificially keep things out of cycle seems unnatural to me. But what do I know?
Here are some things that will take some time to play out, and may/may not have an impact on residential housing:
Forbearance (homeowners who have missed payments) – although this situation is improving, there are somewhere around 2+ million homes still caught up in this process.
Tenant Eviction Moratorium – There have been many numbers thrown out, but something close to $60 billion dollars in unpaid rent and utilities due. How and when does reckoning come through the system?
Commercial real estate (and maybe retail too) – I personally think people will end up coming back to offices – maybe not full time – but I am not subscribing to everyone continuing to work from home full time with no need for office space. I could be wrong – but looking at how human beings operate, my bet is that there is still a very real need for commercial real estate. BUT, I am not totally naive to think that it won't be significantly less than pre-COVID. The re-balancing of supply/demand will likely take time to flow through the system, and if there are losses – and likely there will be big ones – they will affect banks and credit that could very well ripple through into other parts of real estate and the economy.
Inflation and interest rates – Remember, no one saw the collapse last time (2008), including the Federal Reserve. I don't expect any public announcements to say we have gone too far until the market(s) have already gone too far. The Federal Reserve has kept mortgage rates artificially low. Let me repeat: the Federal Reserve has kept mortgage rates artificially low through their purchasing of mortgage-backed securities (MBS). They are now in a difficult position – if they stop/ease the MBS purchasing, then the rates go up. That typically spooks financial markets – and people. Lenders also have less liquidity to draw upon, and rates go up. That is what a normal market does. How long can/will the Fed keep doing this?
Let me also repeat what I have said in previous conversations: regardless of what happens to anything and everything I just said, housing prices are not going down any time soon. Most likely, prices will continue to rise through the next few months, maybe even most of the year. Too much demand, not enough supply. If and when rates start to move back closer to 4% or higher, market activity could finally slow. However, that could take all of 2021. Then we start 2022, and even in down economies/markets, it's very rare that prices fall during a period of peak demand – i.e spring selling season. Therefore the soonest we might expect to see any noticable softening in housing prices would be summer/fall of 2022.
If you are going to sell, what the heck are you waiting for?
If you need to buy a home – waiting doesn't necessarily help you. Rates will likely be higher, and so will prices. But, and this is a big caveat, if you don't think you will be in the home you purchase for more than 5-7 years, buying a home now may be a bad idea.
As always please reach out with any questions regarding your situation and how the market may/may not affect your plans.