You might be wondering what's happening with the real estate market.
You might have seen headlines like:
"Statewide decline in home sales surpasses that seen in metro Denver last year"

"Metro Denver median home prices are lower than a year ago"

"Denver housing market showing early signs of heating back up"

"Companies Buying Houses For Cash In Colorado Flee The Denver Real Estate Market"

"Housing Market Downturn Pushes Record Number Of Investors Away—Here's Why That's Good News For Home Buyers"
The other day I was speaking with a woman (not my client) who is in the process of buying a home with her husband. She was telling me that the market isn't so clear (obviously by the previously mentioned headlines). She seemed to think that it was a 'buyer's market', implying that sellers should take her offers more seriously and that sellers should be reducing their prices to reflect the current market we are in more accurately.
I nodded my head politely and moved on.
She is wrong, and since she is not my client I don't need to explain the current state of the market, nor would she likely appreciate what I had to say.
Okay, okay okay – saying she is "wrong" might be too harsh. How about: her point of view is likely going to keep her from buying a house any time soon.
As I have said before, if you talk to many real estate agents, office managers, and other executives in the industry, they will continue to tell you why real estate is on the rebound, the market has bottomed, and all sorts of other Pollyanna points of view. Again, I am not saying they are wrong, rather there is this human need to tell a positive story to try and convince (themselves and) their clients that everything is okay and now is a 'GREAT!!!' time to buy real estate.
My point of view: the best time to buy and sell real estate (for personal use) is when your situation calls for it. In other words, you should buy and sell when there are real-life reasons to do so. Having said that, there is seasonality to the real estate market. We have just entered the prime selling season: Super Bowl Sunday to Memorial Day, and in recent years I have moved it up to Mother's Day.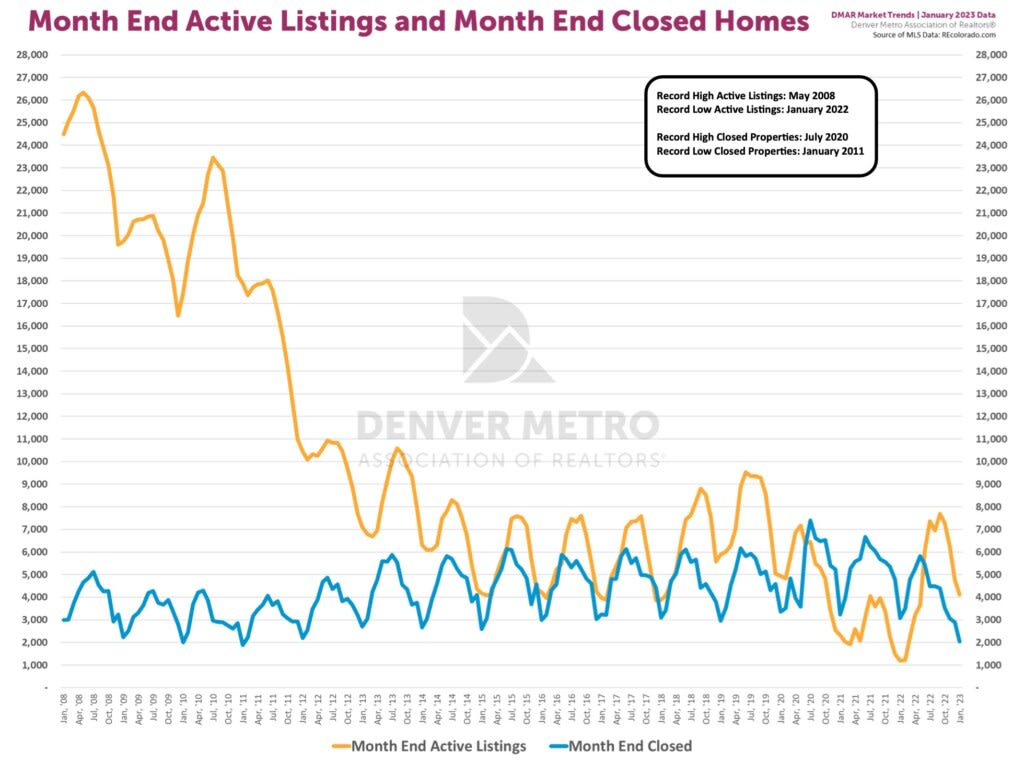 Every year (except for the first year of COVID – spring 2020) the demand for homes rises in this peak season, and during these months (with inventory levels as we have had for the last 11 years) the market typically favors sellers. Sometimes by a lot.
The peak of these demand curves looks like it is a little off from my timeline, but remember these are closed sales, meaning they went under contract 30-45 days prior to their close date. That's why it looks like early summer is the busy season, but it is not – people are already 'checked out' and in summer vacation mode by the time Father's Day comes around.
(NOTE: friendly reminder that simply because I said there is a peak season does not mean you can't sell other times of the year!)
I am expecting this spring will be active, and from my point of view, it's already begun. While it will be nothing like the last few years (sellers need to understand that), the balance will still be on the sellers' side. Here is why:
Inventory levels are still low (see chart from above)

Mortgage interest rates are down from their recent high of 7%, so low 6% or high 5% (if we end up there) sounds like a bargain.

Many people still need a place to live!
A recent article was explaining that in the U.S. the share of one-person households has more than doubled since 1960 to 28% in 2021. Further, while Colorado continues to have a net migration into the state, it has slowed to a trickle compared to the seeming fire hose that we had in the last decade. In other words, Colorado is not losing its population and there seem to be more single households. The demand for housing is not likely to go down…at least not this spring!
So for the woman hoping the market would bend in her favor: she could try again in the late summer or fall, when the market usually softens anyway. Last year we saw about an 11% drop in median sales price at the end of the year, from the peak in April. If I had to guess, I would see some sort of drop in the latter half of this year. Of course, we don't know what will happen to prices this spring: will they go up? If so, by how much? This is why my advice (and the same of most good trusted real estate advisors): the best time to buy and sell is when your needs dictate it. Some of you have heard this same story from me for years. I repeat it because, well, people forget! And, there are newer people who get these updates.
If you have a question about real estate or want to discuss a particular need or situation, please feel free to reach out.